How much does hot water system installation cost? It's a good question – one that we get frequently at Waterline Plumbing. As. Offering Joondalup, Perth's Northern Suburbs, and Ellenbrook plumbing services, we've got the experience, knowledge and insight to provide an accurate breakdown of costs.

The most crucial step in setting up your home for living is adding a hot water system. It goes without saying that hot water is vital for bathing, cleaning, cooking, and general day-to-day water requirements. So, how much will installation of a new hot water system cost? There are a number of factors that will influence installation costs – this guide will outline consideration and a breakdown of hot water system prices. Waterline Plumbing and Gas should be your first port of call for any questions regarding installing a hot water system in Perth.

How much does hot water system installation cost?

Before jumping into answering the question of "how much does a hot water system cost?", it's important that you understand the range of devices available to decide which will best suit your home. These are the most commonly available hot water systems that your Waterline Plumbing and Gas plumber can install: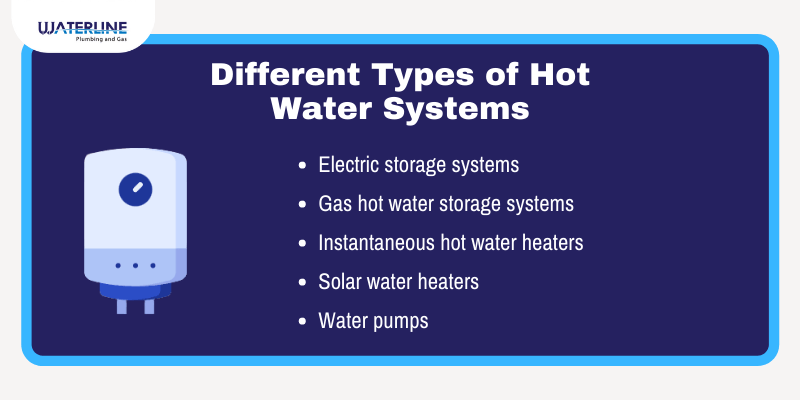 Electric storage systems (where available)
Gas hot water storage systems
Instantaneous water heaters
Solar water heaters
Heat pumps

Solar and heat pump water heaters use large storage tanks but get the energy required to heat your water from renewable energy sources that are great for the environment. Solar water heaters utilise roof-mounted solar panels to absorb energy from the sun to heat water. A heat pump transfers the heat from the air around it to heat the water. These methods both draw on a small amount of conventional power but much less than any standard gas or electric hot water system.

Instantaneous water heaters heat water upon the demand of the user. When the hot water is activated, it passes through a heat exchanger. This saves on your energy costs because it does not have to constantly heat water when it isn't needed. The setback to this type of system is that the water flows slower than other types, and bigger households may need to have more than one system installed.

Both Gas and electric storage systems are still prevalent for their low hot water system prices and because they have been used for decades. They are, however, more costly to run and arguably more harmful to your bank account over time. When selecting a system, the hot water system installation cost should also be combined with your own hot water needs and the cost of heating water over time, as the total might surprise you.

If you only require hot water for a smaller household, an instantaneous system may be cheaper to install and operate than other systems. Whereas if your home uses a lot of hot water, a solar or heat pump hot water system may be the most cost-effective option. On the off chance natural gas is available in your area, the classic gas storage system may still be your best option.

Factors influencing hot water system installation costs

1. New system vs replacing an old one
Generally, hot water installation costs are from $300 to $750 if you're replacing your current hot water system with a similar one. However, if you consider shifting from an electric hot water system to an LPG unit, these costs balloon to around $1250 to $1350. Correspondingly, a gas hot water system installation costs are between $150 to $250 more than electric systems if you are remaining with a gas system. Solar hot water systems are far more expensive, starting at around $3600. Heat pumps begin at a similar price of $3300.


2. Labour cost
Another hot water system installation cost to consider is the hourly rate of the plumbers. Labour costs for the replacement of an existing hot water system with the same type in the same position are the lowest costs, in the range of $260 to $690. Costs extend to over $1000 for moving the system to another part of the property. Changing energy type altogether begins at around $1500 and can be as much as $3000 per installation.


3. Need for additional parts
The simplicity of the installation and the requirements for additional parts or fittings in your hot water system may also affect the complete answer to "how much does a hot water system cost?". Installation costs invariably depend on part requirements, and generally speaking, the more piping or other fixtures your hot water system requires to be correctly installed, the more expensive the service will be. For example, if additional valves are required, like tempering valves, which are mandatory on all new systems, they cost an additional $190 to $250.

Please note that these calculations are based on multiple assumptions and estimations. We highly recommend calling a professional to discuss your individual circumstances before committing to install or replace your hot water system.

Our qualified tradies have the skills and tools to get any hot water system installation job completed at a moment's notice. Whether it's scheduled maintenance, installing a new system, or a plumbing emergency, we've got you covered. Waterline's plumbers are certified and experienced, so you can relax, knowing your job will be completed to the highest standards and in line with many home insurance policies. Remember that any servicing or installation requirements that need to be done on your hot water system should only be carried out by your licensed plumber, as anyone not certified is illegal and could affect your insurance.

4. Installing a hot water system
The often-overlooked hot water system installation cost is that of expertise. Installing a hot water system in your home is never a DIY job. According to state regulations, all households need to have their system installed by a fully certified and licensed plumber. Waterline Plumbing provides assistance on many hot water systems of exceptional quality – booking with us means that your equipment will be installed by experienced, licensed hot water plumbers.

Your Waterline plumber will also inform you of any potential Government rebates for the type of system you select. These exist in the form of Small-scale Technology Certificates and are commonly associated with installing solar heat pump systems. We will inform you of any available rebates worth considering in your calculations and ensure they will work best for your household's hot water needs. The amount you save here can be very significant in choosing a system, and often one that is beneficial to the environment.

Call in the experts at Waterline Plumbing

Waterline Plumbing is Perth's premier hot water system installation and servicing provider. We have incredibly competitive hot water system prices, but our exceptional service and friendly plumbers set us apart from the rest. Our hot water services extend across the northern suburbs of Perth, so if you need a new hot water system or a service, get in touch with the expert Joondalup plumbing company on 0450 334 373 today to hear about our hot water system installation cost.