Whilst the issue of a leaking shower may not seem serious, if left untreated over an extended period of time, a leak can lead to serious, and often expensive issues.

Your bathroom is the most used room in the house – signs of wear will make themselves known relatively easily. If you have noticed a leaking tap, floor-tiles, or any part of the shower that is leaking, and are concerned about potential shower leak repair costs, then continue reading for our full breakdown of how you much you can expect to pay for repairs in 2022.

Shower Leak Repair Costs in Perth

When considering the cost to repair a leaking shower, the total expenses will range depending on the severity and location of the leak. As such, it is crucial that you look to have a leak repaired as soon as you notice the signs and symptoms. Depending on the nature of the problem, the cost to fix a leak around the shower could be anywhere from $60 to $4,000! While that may seem like an enormous range, there are many components of a shower that can require repair or maintenance. An untreated a leak can cause further issues in the bathroom or throughout your home, including mould, water damage, or structural damage, leading to further, expensive repair costs. Trust us – as a Plumbing company Ellenbrook and Northern Perth residents have trusted for years, we know how expensive it can get when a leak is not treated correctly.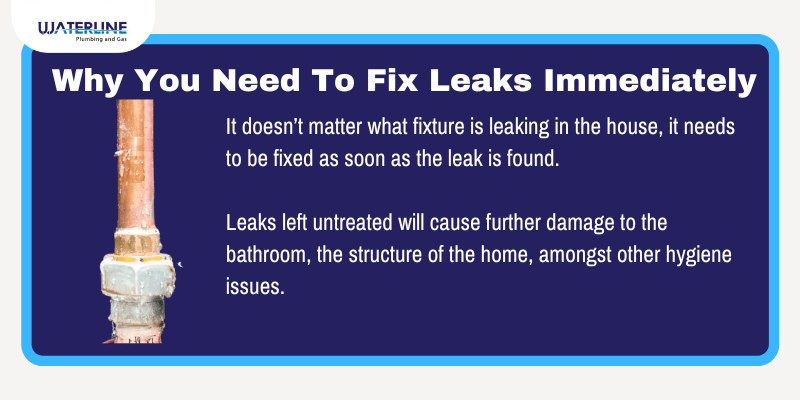 Factors Influencing the Cost to Repair Leaking Shower Perth

1. Replacement of a Shower Head
A leaking shower can stem from the malfunction of your shower head. A faulty shower head is a common issue that can be solved by replacing the shower head itself. The cost to fix a shower head will range between $80 to $250 depending on the quality of your shower head. Replacing fixtures like a shower head are relatively easy to complete, won't take a long time, and when completed correctly, will save you from further issues down the line.

2. Resealing the Shower with Grout or Silicone
Should the leak be caused by old or worn-down grout, you will need a professional to reseal the grout on your tiles to ensure they remain waterproof. Resealing grout is typically charged by the square meter, for a standard sized bathroom, expect to pay anywhere between $350 to $650. The usual repair method for a leaking shower, resealing the grout is effective in almost every case.

3. Retiling The Shower
By far the most expensive shower leak repair cost, if your shower requires a full retiling and new waterproofing put in, you could expect to pay up to $4,000, depending on the finish you are looking to complete. Retiling a shower is only necessary for serious leaks and is often required after a leak has been left to accumulate for an extended period.

4. Fixing Piping Connected to the Shower
In rare instances, you shower may be leaking due to a faulty pipe connected to the appliance itself. Old or poorly installed pipes will wear out and cause leaks in your plumbing and shower area. It is hard to accurately give an estimate to a repair cost for this issue as it can depend on the severity and where the leak is located behind the wall.

5. Re-Waterproofing the Membrane
For showers that have a door to entrance, the rubber membrane that keeps the water within the shower area can become worn down and leaky. Fixing this is a simple job and will take no time at all. Depending on the age of your shower system, it could be worth exploring upgrading the entrance to the shower.

How To Tell If You Have a Leaking Shower

There are a few easy signs that you can spot that will indicate that you might have a leaky shower:
Rust on door frames
Cracking or falling away of grout on walls and floor
Bubbling or blistered paint
Constant dripping sound
Stained water marks
Mould on the walls
Damage to wall and cabinets in the bathroom
Smell of dampness
Damp or stained floor nearby

If you detect a leak early on, the repair work will most likely be very simple and take only a short amount of time. The longer leaks go unnoticed or unreported, the more severe the damage can be.

What Is Grout?

Grout is a water-resistant filler applied between the tiles in a bathroom, or any area of a home. A mixture of water, cement and sand, grout secures the gaps between tiles and keeps masonry in place. Grout is an essential to not only the aesthetic appearance of your bathroom, but also its structural integrity. It will collect deposits of water over time and needs to be regularly cleaned to maintain its effectiveness.

How to Avoid a Leak

To avoid even needing to know the cost to repair leaking shower Perth, Waterline encourages you to take regular care of your shower. The better care you take of the grout and tiling in your home, the longer it will last before wearing down. Regular cleaning and scrubbing will ensure the grout and sealant works as it intends to for much longer than if left to accumulate dirt and grime.

Why Is My Shower Leaking?
Poorly installed waterproofing membrane
Incorrectly grouted tiles
Inadequately installed pipework resulting in water leaking behind the shower wall
Incorrect fitting of tiles
Improper installation of tapware or shower head
Use of cheap materials, or misapplication of products.
Poor water management control to the dwelling as a whole

Can I Repair My Own Leaking Shower?

For those looking to lower the cost to repair leaking shower in Perth, you might be considering taking the fix into your own hands. Whilst some issues like a leaking showerhead are easy fixes, there is no substitute for professionalism. A certified and experienced plumber will ensure the job is completed properly and with a warranty on the work.
Grouting is routinely attempted by DIY-plumbers, and too often we see poor workmanship leading to the leak becoming more severe. Attempting your own work can not only make the issue worse, it will also make it more expensive to fix. We always encourage residents to call a plumber for advice if they notice any issues with their shower.

Waterline Plumbing Cost to Repair Leaking Shower Perth

Waterline Plumbing is Perth's best resource for maintenance and repair of anything to do with a shower. Our experienced team of licensed plumbers can precisely diagnose leaks and get onto any necessary shower repairs in an instant. For any questions regarding shower leak repair costs across the Northern Suburbs of Perth, get in touch with our team on 0450 334 373 or online to get a quote.